In the same category as the Galaxy Watch 5 Pro and the Suunto 9 Peak Pro, the Amazfit Falcon targets consumers looking for a multi-sport watch with long battery life. The Amazfit Falcon boasts a battery life of 14 days with typical daily use and up to 30 days with battery saver mode. This is pretty decent, and it's on par with most Fitbit trackers.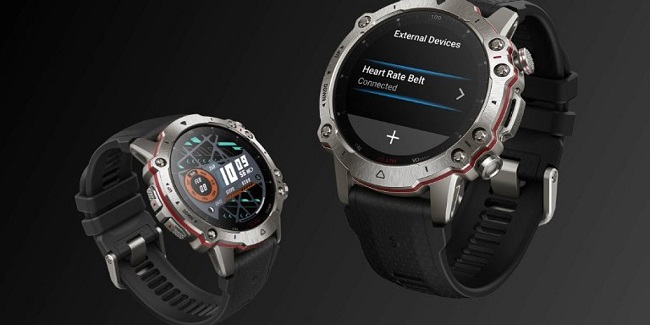 Amazfit Falcon
The new titanium-clad Amazfit Falcon is an ultra-rugged premium smartwatch. It features a one-piece TC4 aircraft-grade titanium body that's highly corrosion-resistant. It also features four titanium control keys. It has undergone 15 military tests, including the MIL-STD 810G, and it is water-resistant to 20 ATMs and 200 meters.
The new watch also features a Zepp Coach that gives users personalized guidance and helps them achieve fitness goals. The Amazfit Falcon is compatible with various fitness apps, such as Apple Health, Strava, and Google Fit. It also has a heart rate monitor. Several apps help users track their progress, including Nike+ Run Club and Adidas Running.
The Titanium Amazfit Falcon is nearly double the cost of its predecessor, the Amazfit Charge 2. It comes with a titanium body, and Sapphire crystal protected glass. It also has better water resistance, the ability to connect external devices, and an AI-powered Zepp Coach.
Zepp Coach
The new Amazfit Falcon features all the usual health and fitness features you would expect from a smartwatch, including six satellite positioning systems and dual-band GPS, which delivers consistent signal strength even in areas with dense signal coverage. It offers real-time GPS tracking and will show you the shortest route back to your starting point. It also has the usual health and fitness options collection, including heart rate monitoring, sleep tracking, and blood oxygen level measurement. The Amazfit Falcon will also support more than 150 outdoor and indoor sports modes, and it can automatically recognize eight of them.
It also features Zepp Coach, which helps you improve your fitness habits and sports performance. This watch uses AI to provide personalized guidance based on your characteristics and can even detect when you're over-trained and recommend a rest day. It also works with various professional workout devices and can create custom training templates.
Water resistance
The Amazfit Falcon is one of the most rugged smartwatches on the market. Its unibody design made of aircraft-grade Titanium is corrosion resistant and features four titanium control keys. The Titanium design also provides 20ATM water resistance, which is an unprecedented rating for a smartwatch.
The titanium case offers more excellent resistance than stainless steel but remains lightweight. A sapphire crystal protects its screen for added durability. The Amazfit Falcon's screen is also extremely bright, reaching 1000 nits. The touchscreen also has an anti-fingerprint coating.
The Amazfit Falcon's water resistance features include a 20 ATM water resistance rating and a 500 mAh battery. It's compatible with Android and iOS devices and various popular apps. It's available in the US for $500, EUR500 in Europe, and PS499 in the UK. It'll also soon be available in Mexico, Brazil, and other countries through Amazon and AliExpress.
Amazfit Falcon includes standard health features like blood oxygen level, sleep tracking, and stress measurement. It also supports six satellite positioning systems, including dual-band GPS, which provides constant signal strength even in the densest urban areas. It also supports real-time GPS motion tracking and gives the shortest path back to your starting point. Along with the usual health and fitness features, the Amazfit Falcon supports over 150 indoor and outdoor sports modes, and the system automatically recognizes eight sports modes.
Price
The Amazfit Falcon Titanium is a smartwatch with a titanium body and silicone strap. It features a 1.28-inch AMOLED touchscreen with a 416 x 416 pixels resolution. The screen is protected by a sapphire crystal and has an anti-fingerprint coating. It supports up to six satellite positioning systems, including a dual-frequency GPS.
The Falcon's battery is 500 mAh, providing an estimated 14-day battery life. It requires just two hours to charge fully. It also supports 2.4GHz WiFi and Bluetooth 5.0 BLE. It is compatible with iOS and Android devices and priced at $326 (USD). The Amazfit Falcon Titanium is available now on Amazon and in several Amazfit stores.
The Amazfit Falcon Titanium sports watch is a premium smartwatch with features that rival Apple Watch and Fitbit devices. It has a titanium unibody, a sapphire crystal screen, and a heart-rate monitor with SPO2 technology. The Amazfit Falcon is also water-resistant to 20 ATM, so you can swim without worrying about soaking your wrist in water.