There are many different types of software available for creating digital art. This article will review some of the most popular free applications. Krita software is an excellent example of this. It is available for macOS, Windows, and GNU/Linux operating systems. It includes a wide range of color selectors, multi-line text support, live document editing, custom dockers, etc. Many concept artists and illustrators use Krita software to create their work. Users can also create screen-referred images using the Krita software.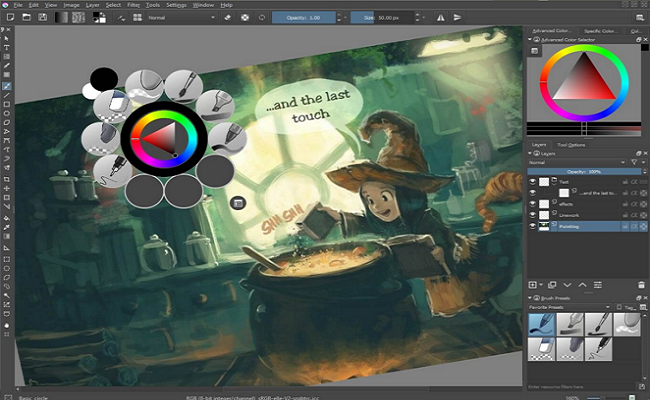 Corel Painter 2022
Among the many free and inexpensive software for creating digital art, Corel Painter 2022 is a great choice. Designed to capture any medium, it has natural media emulation and digital art brushes. It's multiplatform friendly and preserves file content when transferred to Adobe Photoshop. It costs around $200 for a one-year subscription, but you'll save thousands of dollars.
IbisPaint
IbisPaint is one of the most popular drawing apps. It has over 200 million downloads and features more than 12000 brushes, 5100 materials, and a variety of fonts. Other app features include stroke stabilization, recording your drawing process, and 27 blending modes. Users can also use different layers, undo, and redo previous actions, making the software more user-friendly.
Clip Studio Paint
For creating digital art, Clip Studio Paint is an excellent choice. This versatile painting software allows you to render, ink, and manipulate lines and shapes. Its easy-to-use interface and plethora of tools make it a great choice for any digital artist. Users can use their mouse or pen tablet to draw easily, and the program's brush and pencil tools have superior pressure sensitivity.
Alchemy
If you have ever wondered how you can do stunning digital artworks with little or no cost, then look no further than Alchemy, a free Windows program that belongs to the Graphics Editors and Design category. Developed by Karl D.D. Willis, Alchemy offers a remarkably flexible drawing toolkit. Its peculiar drawing tools are organized under two sections: Create and Affect. By mixing two or more of these tools, you can create some unique patterns.
Blender
If you're looking for free software for digital art creation, look no further than Blender. This 3D modeling and animation program, released in 1998, is a community-driven creation that supports just about every possible feature and workflow. It has physical-based and real-time rendering and many useful features for creating 3D sculptures, including built-in motion capture for a realistic look like the famous green screen VFX used in Hollywood.