Huawei has been hosting an event on July 27 to launch its in-house operating system's new version of HarmonyOS. Richard Yu, Huawei's CEO, teased the new features with a video showing the home screen's new widgets. The new version of HarmonyOS is not just a skin but is based on the open-source AOSP platform. The company has been working on the new OS for a year.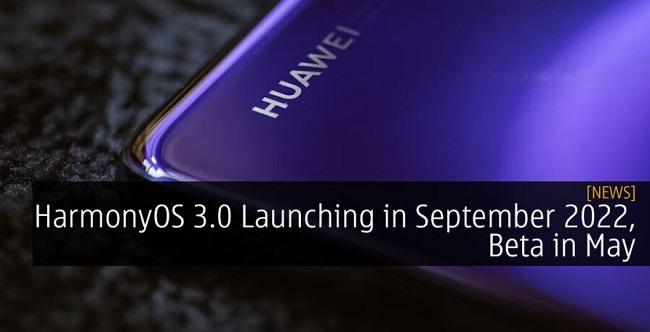 HarmonyOS 3
The Chinese company is hosting a launch event for the new HarmonyOS 3 on July 27. In this video, Huawei CEO Richard Yu shows off some of the software's new features, such as the grouping tool and the ability to create more than one smart folder. In addition, he teases the new rectangular shape of the smart folders. But before we dive into the details, let's review some of the best features of the current version.
The new software will be built on top of the AOSP platform, Huawei's open-source operating system. The OS will include an app-specific widget, Baru, that groups apps by folder or app. This will allow users to view several applications at once. As a result, HarmonyOS will be the most customizable operating system yet, making it easier for users to navigate their phone and customize it as they like.
Features
Today, Huawei CEO Richard Yu shared a video of HarmonyOS 3, the next version of its consumer operating system. According to Yu, the new operating system will include a more flexible interface and a wider range of smart folder sizes. According to Yu, HarmonyOS 3 will be more secure and have more useful features. The new operating system version will also be compatible with all types of devices, including smartphones and tablets.
As expected, Huawei has shared an early video of HarmonyOS 3.0, which will feature improvements in performance, multi-device interconnection, and interaction design. The Harmony API version 7 will introduce 6,000 TypeScript APIs and enhance ArkUI, a declarative UI development framework. The new version of the operating system is also compatible with the P50 and Mate 40 series and the upcoming Mate 2021 model.
Enhancements
In a recent Weibo post, Huawei CEO Richard Yu unveiled a teaser video of the new operating system, HarmonyOS 3. Known as a new Android version, HarmonyOS will keep its unique features while adding new ones, including a unified card holder. It will also support more sizes for smart folders, according to Yu. This new version will be a welcome addition to the mobile world and is expected to make users' lives easier.
The new version of Huawei's operating system will launch on July 27. Other upcoming devices will include the Huawei MateBook, Huawei MatePad, and a smart screen. In addition, Huawei will unveil a printer powered by the HarmonyOS system. The new operating system was released in developer beta form earlier this month and showed significant improvements in multi-device interconnection, performance, and user support.
Performance
The HarmonyOS system is a major new feature in Huawei's latest smartphone, but what exactly is it? The company has billed HarmonyOS as the world's third-largest app ecosystem, boasting over 300 app providers, over 1,000 hardware makers, and at least 500,000 developers. The company has lofty goals for the software, aiming to make it compatible with 200 million smartphones by the end of the year, as well as 100 million connected gadgets. HarmonyOS does not require a sophisticated chip, unlike other mobile operating systems, making it a viable option for various devices.
As the only Android operating system designed specifically for IoT devices, the HarmonyOS isn't an "like-for-like" replacement. Instead, it is an Internet of Things platform compatible with other devices, including cars, appliances, smartwatches, tablets, and smartphones. This means that if Google stops supporting Android, Huawei will have a much easier time deploying its operating system on devices that aren't smartphones.
Security
The Chinese smartphone giant has unveiled a new operating system, HarmonyOS, to fend off the threat of the US-China trade war. The company was banned months ago from accessing critical U.S.-origin technology, including designing its chips and sourcing components from outside vendors. Once the world's top smartphone manufacturer, Huawei is ranked sixth, with a 4% market share in the first quarter. The US-imposed sanctions, however, have prevented Huawei from supplying its devices with Android OS. Huawei has denied this, saying its new OS is a purely Chinese language version of Android.
While the company has invested heavily in HarmonyOS, its consumer business has experienced a severe downturn. Its revenue dropped by nearly a third year, to 243.4 billion yuan. The company has been persuading third-party makers to use its HarmonyOS operating system. However, it has been an uphill battle. Huawei partnered with Kylinsoft, a state-owned China Electronics Corp. subsidiary, and ten other Chinese companies to make HarmonyOS 3.